Feb
22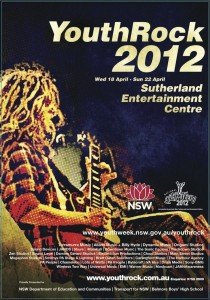 The 2012 Entry Pack is here! Hardcopy packs have also been sent to schools and should be arriving in the next few days.
Download the entry pack here (PDF): YouthRock Entry Pack 2012 UPDATED
NOTE: The online entry form on Youthweek.nsw.gov.au should go live on Monday 27th February, or shortly after – so take a few days to get all your entry info together.
Entries close Wednesday 21st March 2012